Self-Order Kiosk Placement: Why It Matters
Store layout influences ordering behavior. And ordering behavior can make the difference between a normal check average and a check average boosted by 15%.
We recently shared 11 compelling reasons to consider kiosks for your restaurant. Among them:
65% of customers would visit an establishment more often if it had self-service kiosks.*

30% of customers prefer to order from a kiosk versus a cashier, even if the lines are equal in length.*

25% of restaurant customers have used a self-ordering kiosk at a restaurant within the past three months.*

400%

:

Drop in order accuracy complaints at one nationwide sandwich chain (study of Xenial customer)

One team member:

Reduction in staffing requirements during peak period at one nationwide sandwich chain (study of Xenial customer)
At Xenial, we have years of experience researching customer ordering habits, studying store layouts, installing self-order kiosks, and tracking results for our kiosk customers. As you might expect, we've learned a thing or two.
Placement Matters, More Than You Think
Consider these stats:
Concepts with kiosks at the counter see more than 90% of orders come through kiosks, on average.

Concepts with kiosks off to the side or farther from the counter see on average 20 – 30% of orders come through kiosks.

A pair of kiosks outperforms a single kiosk by a factor of 3!
Why does location matter? Consider this hypothetical study.
Let's Compare
Let's compare Store 1 and Store 2. Each had 100 customers come in for lunch today.
The two stores are identical, except for the placement of their kiosks.
Comparison details:
At Store 1, 25 customers ordered at the kiosks.

At Store 2, 95 customers ordered at the kiosks.

Customers who used kiosks were exposed to automated upsell.
Kiosks Boost Check Averages When They Are Well Placed
The customers who ordered at kiosks spent an average of 15% more than those who ordered with a cashier.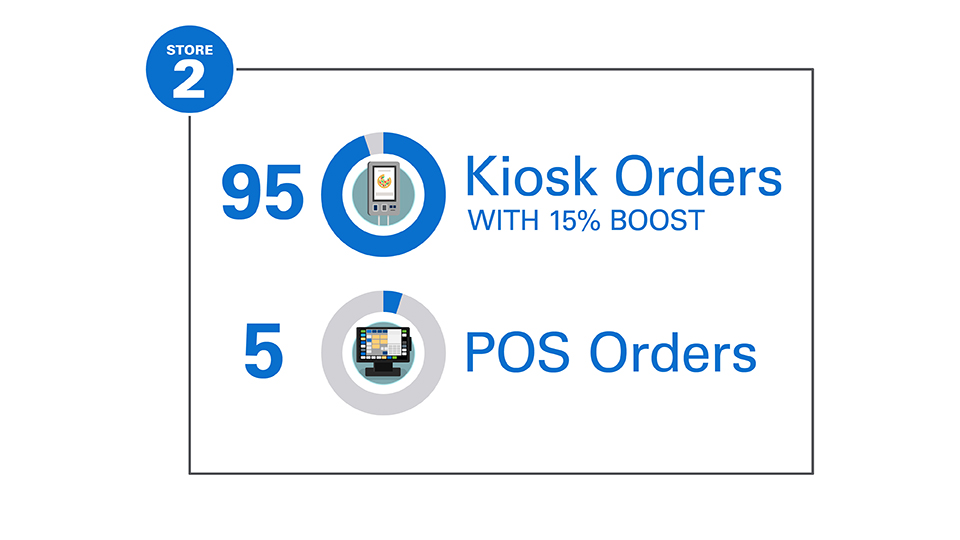 The Results Are In: How Does a $36K Annual Revenue Boost Sound?
Store 2 experiences about $100 more in sales per day at lunch. Over the span of a year, that's a $36,500+ revenue boost. Just at lunch time.
As you can see, kiosk placement matters. And with customers becoming increasingly comfortable and familiar with self-service and self-order, kiosks can be a great investment that pays ROI rapidly. In fact, restaurant chains that have Xenial kiosks find that the innovative features increase profits enough to provide a full ROI within 6-8 months (on average).
Ready To Make Self-Order Tech A Part Of Your Concept?
Talk to us about your goals. Our team of experts can help you ensure that your kiosk strategy is a success, now and in the future.
800-253-8664
____________________
* https://www.forbes.com/sites/aliciakelso/2019/07/30/self-order-kiosks-are-finally-having-a-moment-in-the-fast-food-space/#7e0a56a54275